Car buyers have more options than ever before when it comes to where to shop and what they're looking for. Online, local, national-there's no limit when it comes to finding that perfect new or used car. But sometimes, you want to keep it simple. Maybe you just want to update your current Subaru, or you're looking to buy for the first time and heard Subaru makes some of the most dependable and long-lasting vehicles on the road. Well, if that's the case, you won't have to look far, with Subaru being one of the most popular brands on the road today. So if you're ready to begin your search, you might be wondering, "Is there a Subaru dealer near me?" 
It's easy to go online and search for the nearest dealer for your next Subaru, and if you're lucky enough to be in the Troy area, then you can easily find your next new or used Subaru right here at Carbone Subaru of Troy. It doesn't matter if you already have a model in mind, if you're still trying to decide, or just beginning your search, at Carbone Subaru of Troy, we're excited to get you into that new car, truck, or SUV you've been dreaming of. And as with any Subaru, you know you'll be getting not only a great-looking vehicle but one that you'll be able to depend on for decades to come to get you where you want to go. 
Subaru History
For over 50 years, Subaru has been making long-lasting, dependable cars that consumers can count on even in the toughest of conditions. Starting as a division of Fuji Heavy Industries in 1953, the Japanese automotive division soon became a name unto itself by designing unique, reliable cars like the Subaru 360 and the Subaru 1000. While the 1968 Subaru 360 was considered "cheap and ugly" and resembled a strange version of the popular VW Beetle, it was created to be cheaper and lighter than the popular German Bug. 
Subaru had some pretty steep competition in the 1960s from fellow Japanese car brands like Honda, Nissan, and Toyota, but that didn't stop them from rising through the ranks and standing out as serious competition. By 1969 Subaru introduced the FF1, the first front-wheel drive car aimed at drivers in Rural America. Designed as either a two-door sedan or a four-door wagon, the FF1 (sometimes referred to as The Star) was better at tackling country roads than previous generations of rear-wheel drive cars, making it a popular seller stateside. 
Just a short time later, in the 1970s, Subaru introduced four-wheel drive wagons into the US market. This was the first time a car had been offered as a four-wheel drive vehicle. It proved to be a popular move by the Japanese company, cementing its reputation as an innovative, forward-thinking automotive brand. By 1975 Subaru's GF model was proclaimed "Import of the Year" by Road Test Magazine. But all the praise didn't stop Subaru from continuing to push boundaries both creatively and mechanically, producing some of the best performing vehicles of the 1970s and upwards. 
From the 1987 Justy, which became the first mini-car to be sold in the USA, to the introduction of the 1995 Outback, the world's first sport utility vehicle, Subaru has become a brand of new exciting models that only get better as the decades roll on. By the 2000s, Subaru was producing continuous record-breaking sales, and by 2017 they had hit their ninth year of record sales with over 647,956 vehicles sold. 
Over the years, Subaru has proved to not only be one of the most reliable and long-lasting, not to mention fun brands to drive, but also one of the greenest. Beginning in 2015, Subaru partnered with the National Parks Service to help reduce landfill waste. Not only that, but Subaru joined with the National Forest Foundation. Together they aimed to plant 500,000 trees that were devastated by the California wildfires, plus an additional 500,000 trees that were destroyed in nearby states like Washington and Oregon, all of which have been plagued with record-setting wildfires in the past decade. 
Subaru's eco-friendly mission doesn't stop there, with the company branching out into recycling. They are saving hundreds of pounds of trash from ending up in landfills, and giving things like plastic wrappers and coffee cups a second life through recycling items into useful, sustainable goods. Subaru has proved to be a company that practices what they preach. They not only produce vehicles to take their nature-loving customers to the national parks and beaches that they love but have vowed to Leave No Trace behind by educating the public on how to enjoy their vehicles and green space by engaging in eco-friendly practices for others and future generations to enjoy. 

Highlights of 2022 
No matter your lifestyle, there's a Subaru to fit your needs. The Subaru family of sedans and SUVs stands out as great vehicles for families and those who not only want to get outdoors but are looking to get off the beaten path and fully experience all nature and Subaru have to offer. 
The Subaru Legacy perfectly sums up Subaru's image. Being both budget and eco-friendly, the four-door, all-wheel drive sedan takes drivers where they want to be in the style and comfort only offered by Subaru. 
If getting out into nature is what you're looking for, the Subaru Outback will get you there. The eco-friendly compact SUV not only delivers a stellar EPA of 26 MPG in the city and 33 MPG on the highway, but it also comes standard with all-wheel drive. Equipped with a Subaru Boxer engine, the 2022 Outback is capable of towing up to 3,500 lbs, meaning nothing gets left behind. From hauling bikes or a small trailer for camping, the Outback knows no limits when it comes to getting out into nature. 
And no Subaru lineup would be complete without the Ascent, showing sometimes bigger can be better. Offering more space than ever before, the 8-passenger 2022 Subaru Ascent gives drivers more cargo room than previous generations. With up to 5,000 lbs of towing capacity, the Ascent is perfect for any family trip. 

The Dealership You Need to Work With Is Carbone Subaru of Troy
Carbone Subaru of Troy has a personal mission to not only get you into that new or used Subaru of your dreams but also make it fun, all the while saving you time and money. Our friendly and knowledgeable sales team wants to help you. Whether it's answering questions you might have about a particular model or the buying process, we're here to assist in whatever way we can. And when it comes to financing, our experts are standing by to get you the best deal possible to fit into your budget so you can drive away feeling comfortable and satisfied with your decision. 
We know car buying isn't something to take lightly. We know it's a huge investment, not just of money but time, and we want to help you make the right choice for you. So at Carbone Subaru of Troy, we try to make it as quick and easy as possible. Save time by applying for financing online before you even get to the dealer. Have a trade-in? We make it simple to get an instant cash offer online by entering a few details about your car, so you know exactly what you're getting before you arrive. And if you really want to save time, Carbone Subaru of Troy lets you buy online. It doesn't get much more convenient than that! 
Our great services don't stop once you've left the lot either. Our service center is here to help you out by making it easy for you to book an appointment online. Whether you need tires or a new part, our highly-qualified mechanics here offer you the best in automotive maintenance available.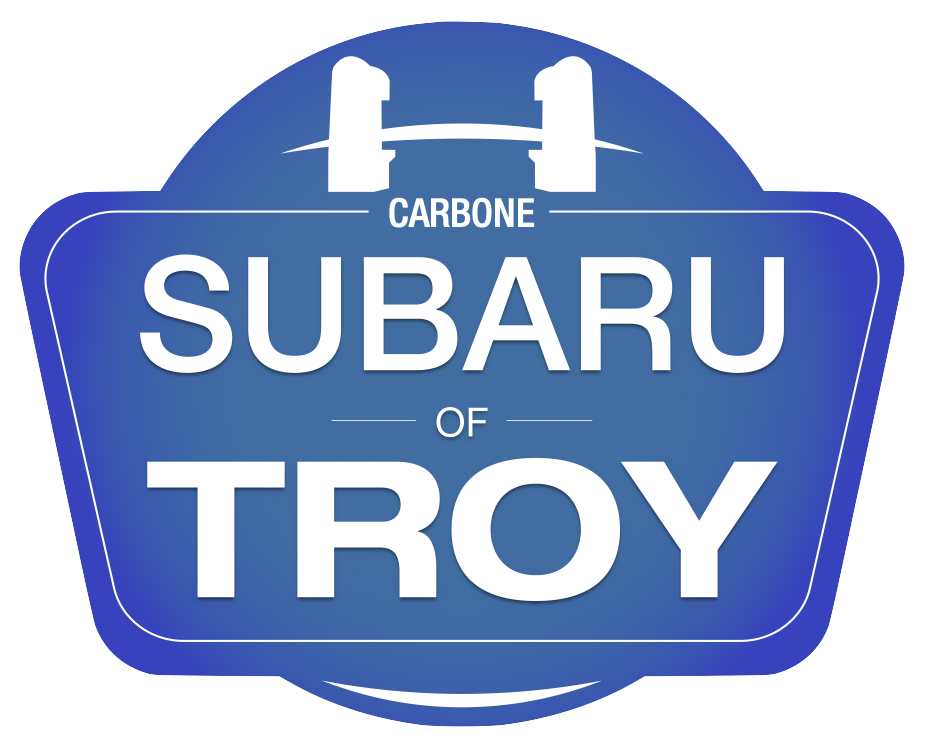 We Are the Best Subaru Dealer Near You
It doesn't matter if you're a seasoned car buyer or a new driver; when people hear the name Subaru, they know they're getting a durable, road-worthy vehicle, not just for them but their family. The Japanese automotive maker has been thinking outside of the box since the beginning, delivering innovative vehicles to drivers for over 50 years with no signs of slowing down. Subaru offers a unique experience to every person who owns one, and with their diverse array of vehicle offerings, they are going to have something that you will like. 
So what are you waiting for? At Carbone Subaru of Troy, we want to hear from you. We will help you find the best Subaru vehicle for your needs, and we will help you take care of it for as long as you own it. You don't have to look hard to find the best Subaru dealer near you; you just need to come to Carbone Subaru of Troy.