As much as everyone wants to drive a supercar, the reality is that some drivers need an SUV that promotes safe and comfortable travel for more than just themselves. Commuters have it easy, especially if they're the only ones sitting in their vehicle. For someone with a large or growing family, however, choosing the right vehicle can get complicated. If you are thinking about an SUV for you and your loved ones, consider the 2022 Subaru Ascent.
One of the most notable selling points of the Ascent is its three rows of seating, resulting in a maximum capacity of eight passengers, even on the base model. Whether it's your kids, parents, friends, colleagues, or even your dog, it makes sense that someone with a busy life is seeking a vehicle built for just that. The Ascent is seemingly almost built exclusively for those with busy lives and large families, and thanks to a wide range of features tailored to assist you with just about anything you can think of, it doesn't get much better than this.
What may surprise a lot of shoppers keen on purchasing such a versatile vehicle is how much the Ascent costs. More specifically, its low starting price of $32,795 is what piques the interest of nearly everyone.[a] Not only do you receive the aforementioned three rows of seating with your base level Ascent, but it also includes a wide range of tech, comfort, and safety features, along with an impressive amount of off-road versatility. Understandably, some drivers may prefer going a bit beyond this and opt for a more feature-rich trim, and thankfully there's no shortage of options, with seven that are available.
MSRP: $32,795[a]
Horsepower (hp): 260
Torque (lb-ft): 277
Fuel Economy (mpg city/hwy): 27/21

Passenger and Cargo Space
Every shopper with a big family is typically looking for a vehicle that can fit eight people and is concerned about how well they will fit. A common misconception is that any vehicle, including three-row SUVs, can be subjected to massive compromises to reach three rows of seating. In the case of the Ascent, this is not true, and for the times when you're not traveling with your group of passengers, you can fold down the two rows in the back to vastly increase your available cargo space.
Room For Every Passenger
Beginning with the front row, you and the person sitting next to you will have an impressive 41.3-inches of headroom and 42.2-inches of legroom-that's 3.4 ft. and 3.5 ft., respectively, which is simply incredible. Best of all, second and third-row people will have 40-inches and 36.2-inches of headroom each. This means that Grandma won't complain about being uncomfortable, the kids have their own space, and your dog will feel like a king in a giant castle. Legroom in the two back rows also fares incredibly well, with 38.6-inches in the second row and 31.7-inches in the third. In total, the Subaru Ascent has a passenger volume of 153.5 cu.ft.
Exceptional Cargo Space
Now for the cargo. The previously mentioned sacrifices that manufacturers make tend to be in this general field. Not for the Ascent, as Subaru gives Ascent owners a respectable amount of cargo space, and this is whether it's those rare moments where it's just you, or maybe just you and your dog. When you fold down both rows of back seats, you'll be treated to 75.6 cu.ft. of space, which means that you'll be hauling cargo long and wide, and of course, you can carry more with you thanks to the towing abilities.
Even when you keep the second row of seats up, such as driving with five or so passengers, you'll have 43.5 cu.ft. of space to work with. Thanks to this cargo space that remains excellent at all times, the Ascent is perfect for family activities. Activities such as bringing the kids and their friends to soccer practice, going on fun family adventures such as vacations, or taking everyone to the theme park in the Summer are all made better by the Ascent. The possibilities are truly endless.

Comfort and Convenience
The Subaru Ascent does wonders in regards to the comfort of the vehicle's occupants, and there's a host of convenience features designed to make your life easier too. Of course, comfort stems from a few things, but one of the most important ways manufacturers ensure their vehicles are comfortable is by supplying seats that people won't mind sitting on for long car rides. The base Ascent comes with a comfortable 6-way manually adjustable driver's seat, however, upgrading to the Premium 7-passenger, Premium 8-passenger, or Onyx Edition 7-passenger will secure you an even more comfortable 8-way power-adjustable seat.
A Wide Array of Comfort Features
These three trims and every succeeding one come with the All-Weather Package, which includes heated seats. If you want ventilated seats, however, then you'll want to opt for the Touring. The Touring, along with the Limited 7 and 8-passenger, also includes heated seats for passengers in the second row and customizable climate controls, meaning Grandma won't be complaining about her legs being cold. Like most SUVs, the second-row bench seat will be swapped out for captain's chairs on select trims, which does give backseat passengers more room to stretch out, but it also lowers the passenger capacity down to seven. And, like most other SUVs, cloth stitching comes standard, although leather is available on the pricier trims. Should you opt for the 7 or 8-passenger Premium options, your seats will be covered in a stain-resistant cloth, which is certainly a convenient feature.
Infotainment
Along with these comfort features, a host of tech is integrated into every Ascent to give you a more connected and personalized experience. Every trim level besides the base configuration offers an 8-inch infotainment center, with the Touring at the top, integrating built-in navigation. However, the base 6.5-inch infotainment center is not a bad choice either.
With these infotainment centers, you'll find Apple CarPlay and Android Auto, which greatly enhance the experience and gives you a chance to download and utilize preferred navigation apps if you don't have the Touring trim. Something that the base trim is lacking that you'll find on every other trim is a 4G LTE Wi-Fi hotspot, which is important to note. Only the Limited and Touring utilize the crystal-clear sounding Harman Kardon premium audio system, coming standard on the latter. Every other trim is still given a fantastic-sounding 6-speaker audio setup.

Performance & Performance Features
Every Ascent comes with a Turbo Boxer 2.4L 4-Cyl engine. Turbo Boxers are well regarded for their performance coupled with a greater balance and a low center of gravity, meaning they're perfect for vehicles that may not always stay on the pavement. The Ascent comes equipped with Subaru's venerable X-MODE. X-MODE activates at the push of a button, and how it ultimately works is by meticulously applying torque to each wheel individually if one begins slipping. Most likely, this would occur when it's raining or snowing out or while going through a patch of mud. By pressing the X-MODE button, you can let the Ascent handle most of the heavy lifting. It works wonders, especially when paired with the Ascent's 8.7-inches of ground clearance.
Power and Capability
As for the performance of your Ascent and its Turbo Boxer 2.4L 4-Cyl engine, you can expect an impressive 260 hp and 277 lb-ft of torque. This is important because this engine comes with every Ascent trim. So, if you're looking to save money by purchasing a standard configuration, you won't have to worry about missing out on any of the performance, and that includes X-MODE and the integrated 4x4 system. This engine also pairs with a Continuously Variable Automatic Transmission (CVT,) which helps the ride feel smooth without a hiccup, even when you pick up speed. Best of all, this powertrain allows the Ascent to achieve its maximum towing capacity of 5,000 lbs. All of this combines to form a three-row SUV that's spacious enough to hold all of your belongings but strong enough to tow them along.
Fuel Efficiency
The efficiency of the engine is also impressive. Regardless of which Ascent you purchase, AWD is what you'll get. That is ultimately a good thing for people who are purchasing the Ascent, and it doesn't affect the fuel efficiency in any meaningful way as you might expect. With the Ascent, you'll be getting EPA-estimated ratings of 21 MPG city and 27 MPG on the highway-an outstanding set of numbers for a vehicle as large and powerful as this.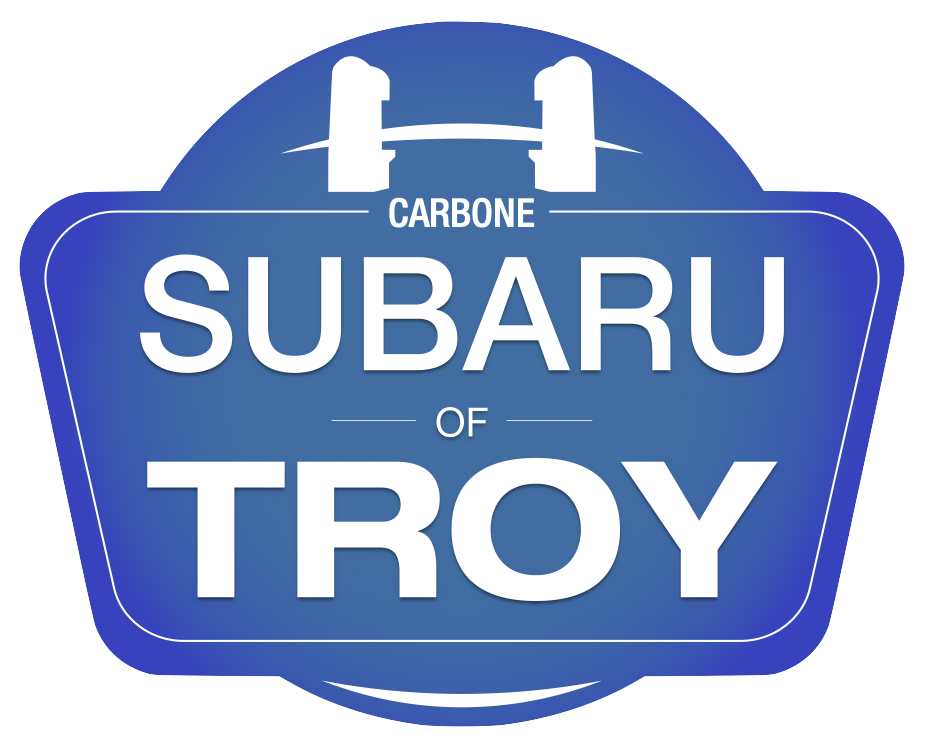 About Us
You could purchase a vehicle from any dealership, but does that mean you should? Nowadays, dealerships are plentiful, and at first, that may seem like a positive thing. In reality, what this means for customers is that dealerships tend to get sloppy with the way they treat their customers. Perhaps it's because of overworked and stressed-out employees, or maybe it's simply how they squeeze money out of each of their customers. Whatever it is, that's not what Carbone Subaru of Troy is about.
Our dealership is built on the foundation of high-quality service and the best available vehicles for miles around. Thanks to our dedicated and passionate team, we can confidently say that we're your go-to dealership if you live in the greater area of Albany, NY. Are you looking to purchase a new, used, or CPO (Certified Pre-Owned) vehicle at a fantastic price? Or, are you looking for the best location to get your vehicle serviced or repaired by a team of hard-working certified technicians? If you answered yes to any of these questions, come down to Carbone Subaru of Troy, located at 800 Hoosick Rd, in Troy, NY.
---
[a]MSRP may change without notice. See dealer for complete details.